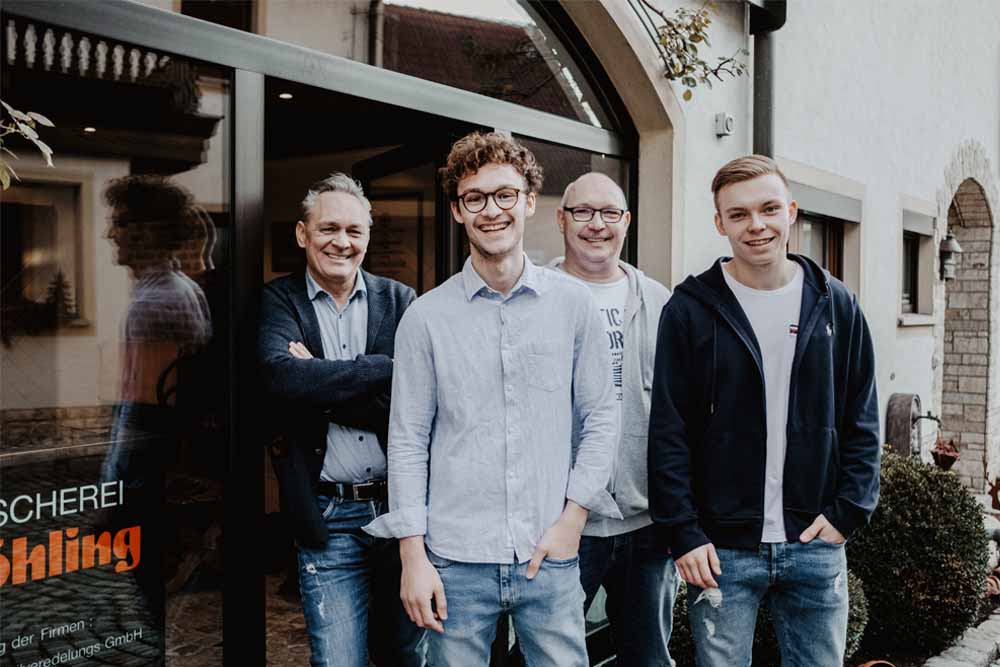 About us
Since 1989 we are an established textile service company with our main location in Lisberg, Germany. As a family business in the third generation, we accompany well-known German and European name brand manufacturers as well as textile producers . We also provide the development of samples, prototypes, doubling parts to the production of washing and dyeing goods in Germany as well as at our two own production sites in Northern Macedonia and Albania for every customer. We are your competent partner in the entire field of textile finishing worldwide.
A trusting and reliable partnership with our customers
Washing & finishing programmes with exclusively controlled & listed (GOTS, REACH, Oeko-Tex Standard 100, Bluesign©system) textile auxiliaries/ dyes
Sustainable & innovative work with ecological process technologies
A creative and individual concept development for our customers
Our vision is to achieve the best possible and extraordinary results for our customers with ecological and innovative process engineering / technologies.
Consulting
Creation of recipes
Provision of finished programs
Consulting for washing quality assurance of worldwide production
Individual concept creation

 

Processing and retrofitting
After-treatment of yellowed goods
Mould / mould stain and odour treatment
Colour tone adjustment
Retrofitting of used, destroyed and buffy effects
Colour and rub fastness improvements
Re-dyeing and over-dyeing
Washing, dyeing and finishing capacity in Germany daily 3,000 to 5,000 parts

Finishing
Stone-Wash (pumice stones, perlite, rubber stones and enzyme stone)
High-quality enzymatic flat fabric finishing with specially combined enzymes and soft aids
Registered Tencel Laundry
Linen special finishing
All common and ecological bleaching processes

Dyeing and special effects
Colour adjustments with different dyeing processes (e.g. substantive/direct dyeing,
reactive dyeing, Old Dye-process as well as all dye spray processes etc.)
Used process, scraping/spray process
Destroyed optics
Moustache/Buffy effects
Resin, synthetic resin and coloured synthetic resin coatings
Wash and colour crash optics
Germany
Hauptstraße 24-28
96170 Lisberg
Northern Macedonia
UL.Goce Delcev br.34
2000 Stip
Albania
Rinia Durrsake L17
2001 Durres
EMail
verwaltung@froehling.com